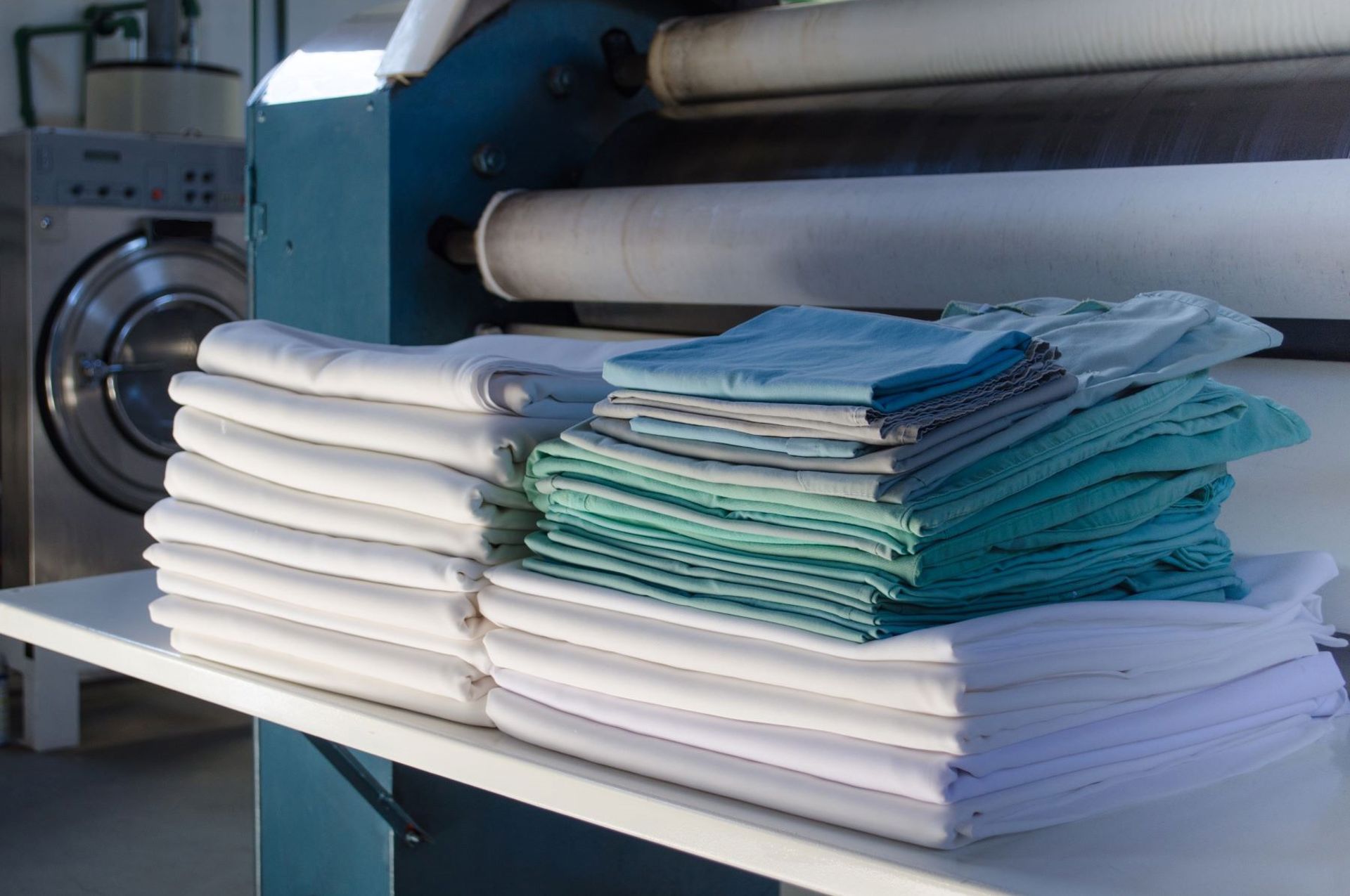 Commercial Laundry Services for Businesses in and near Virginia Beach, VA
If your enterprise generates dirty laundry then you need Tydee Clean Laundry Services. If you manage a hotel, salon, medical office, assisted living residence, restaurant, or Airbnb, your customers and patients expect clean linens and towels and your staff needs pristine uniforms. Tydee Clean Laundry Services has the industrial machines and capacity to take some, if not all, of your business's laundry. While you focus on marketing your products or services, booking customer appointments, taking care of patients, and elevating your brand, we will do the laundry for you.
Let's Get Started!
Get a custom quote for your business's specific needs. Estimates are based on the kind of laundry you need cleaned, how much, and how often you need deliveries. 
We Serve a Variety of Industries
Linen Cleaning Service
Tydee Clean Laundry Services can handle all your linen laundry. Whether you use linen tablecloths, chair covers, or linen napkins for a party rental service or restaurant; curtains and pillows to decorate an office; or duvets, pillow shams, and luxury bed sheets to prepare hotel rooms, we'll wash, dry, and fold them all and help you maintain a steady, clean supply. Perfect for offices, party rental services, hotels, motels, inns, event venues, salons, barber shops, and spas.
Towel Cleaning Service
Tydee Clean Laundry Services can make your towels clean, fresh, and scratch-free. If they are not washed properly, towels can smell bad and irritate your customers. Towels are not only for human use. Trade workers use towels to clean hands and surfaces. We can wash and restore towels for both luxury and utility purposes. Just as you wouldn't give customers scratchy towels for use on themselves, don't give your custodians, fleet, or crew dirty towels that can scratch delicate surfaces. We can wash, dry, and fold your towels be clean, safe, feeling soft, and smelling great. Perfect for spas, salons, barbershops, gyms, custodial and janitorial services, automobile detailers, and car washes.
Uniform Laundry Service
Uniforms have the ability to make a company look united while maintaining brand identity through staff appearance. Tydee Clean Laundry Services as the ability, capacity, and flexibility to help you maintain a steady supply of professionally cleaned uniforms. Before you send your staff to engage with customers, such as in residential house calls for electrical and plumbing work, or deploy a fleet of parcel delivery workers, be sure to provide them with properly cleaned and neatly prepared uniforms that help keep each employee looking sharp and professional. We will wash, dry, fold and hang your uniforms so that they are clean, comfortable, and ready to wear. Perfect for restaurants, hotels, hospitals, animal clinics, law enforcement, fire departments, parcel carriers, school uniforms, sports teams, public works, and more.
Restaurant Laundry Service
As a restaurant or bar owner, you know the value of having neat and clean linens for your customers and professional uniforms for your staff. But you also know how much hassle and expense it takes to launder them yourself. Tydee Clean Laundry Services offers restaurant laundry service that is perfect for removing food stains such as tomato sauce, turmeric, mustard, wine, hot sauce, and more. Let us assist with your restaurant laundry needs. Perfect for restaurants, cafés, bars, diners, cafeterias, mess halls, and other eateries.
Hotel Laundry Service
Laundry is a big part of running a hotel or motel. Your staff has to wash and dry sheets, towels, blankets, comforters, and more for every room every day. And that's not counting the rugs, robes, and pool towels. All of these items have to be clean and appealing for guests. But guests choose hotels not just for linens and towels, but for amenities and location. Get Tydee Clean Laundry Services so you can concentrate on giving your guests great service while we take care of the laundry. Perfect for hotels, motels, inns, rehabilitation centers, and assisted living facilities.
Airbnb Laundry Service
As a vacation rental owner and manager, you have to be prepared for bookings regardless of how irregular or consistent they are. But you face a challenge: laundry. All the linens, bedding, and towels in the house have to be clean and fresh for the next guests. This is more than a hotel, this involves bedding, bath towels, throw blankets, kitchen towels, and maybe even pet bedding. In the vacation rental business, your bookings can vary a lot, but we can adjust with you. As Tydee Clean Laundry Services, we have the tools, the space, and the adaptability to help you get ready for the next booking. Perfect for Airbnb, VRBO, and other private vacation rentals. We can also take your tenants' laundry, too.
Medical Laundry Service
Cleanliness and hygiene are essential for your medical facility. You want to protect your patients and staff from infections and diseases. That's why you need a trustworthy laundry service that can take care of all your medical linens and garments. At Tydee Clean Laundry Services, we have the skills and experience to offer you the best laundry service for your medical practice. We use a tested process to eliminate stains, odors, and germs from every item. We can deal with scrubs, sheets, towels, patient robes, lab coats, and more. Perfect for medical offices, dental offices, outpatient clinics, hospitals, surgical facilities, veterinarian clinics, animal hospitals, and other healthcare businesses.
Assisted Living Laundry Service
When you manage an assisted living facility then laundry tends to pile up exponentially fast. This kind of operation combines that of medical services, food services, recreation, and residential services into one contained environment that produces laundry per department. Medical assistance often results in medical laundry. Residential living often results in dirty clothes, linens, bedding, towels, and more. Recreation generates dirty laundry like towels and art smocks. The dining room and kitchen results in restaurant laundry. Then consider all uniformed staff and their uniform laundry needs. Tydee Clean Laundry Services can wash your assisted living facility's laundry. We have the capacity and ability to wash, dry, and fold residents', patients', and staff laundry so let's get in touch and get started today. Perfect for long-term care facilities, hospices, memory care facilities, assisted living facilities, and retirement communities with assisted living programs.