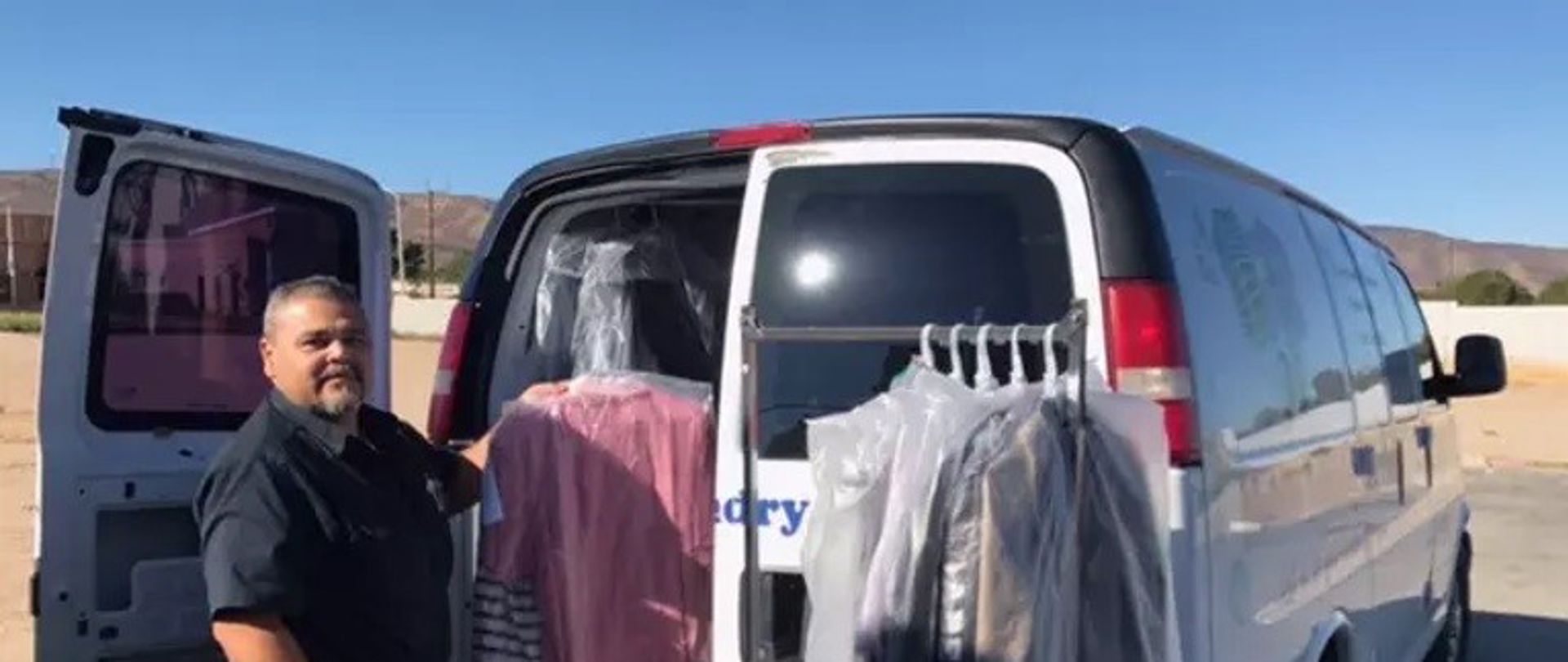 Laundry Pickup and Delivery in and near Virginia Beach, VA
When you don't have access to a washer and dryer at home, you can always go to the laundromat. When you run low on time, you can leave your laundry with our wash and fold service. Did you know we will also pickup your dirty laundry; wash, dry, and fold it; then bring it all back nice and clean and ready to wear or use? Tydee Clean Laundry Services offers a very convenient laundry pickup and delivery service—perfect for busy individuals, households, families with small children, and businesses that produce dirty laundry.
Pickup and Delivery Schedule
Monday through Saturday from 9AM to 4PM
Scheduling is easy, too. Use our online scheduling tool from any mobile or desktop device to choose services, schedule your pickup, and schedule your delivery. Laundry couldn't be easier to do!
Tydee Clean Process for Tydee Clean Results
When our driver picks up your laundry to wash, dry, and fold everything for you at our laundromat, you can trust us to give your items the attention they need. The process starts with observing any notes you included with your order and ends with clean, fresh laundry delivered to your door. We generally follow these steps unless otherwise specified.
First, we separate your laundry into loads by color and white. It is during this time we will apply any spot treatments if specified in any notes included with your order.
Then we load your laundry into washers—separate from other orders, of course—and wash everything using a very high-quality commercial grade detergent that lifts most stains. If you have special requirements such as an extra wash cycle or water temperature, please include notes in the scheduling process.
Once your items are done with the spin cycle, our attendants who are constantly monitoring the machines will quickly transfer items to dryers with high-quality commercial grade dryer sheets.
After your laundry is sufficiently dried, our attendants will promptly remove all items from the dryer(s) and lay them out on a clean folding table to prevent any mishaps and cross contamination and begin folding. At this stage, if requested during scheduling, we will hang items. Collared shirts and dresses will automatically get this treatment; we do not charge for hangers. We will also match socks.
Once we folded or hung everything, then we will gently pack everything into laundry bags and our driver will bring it back to you. Our driver will also notify you when they are enroute and again when they drop off your laundry.
By default, all mobile fluff and fold orders will get the treatment described above. However, we know that your garments, linens, and washable décor are an expression of you, and sometimes you want special attention. We do offer the following upgrades and take the following requests:
Upgrade to Tide or Gain detergent, Suavitel fabric softener, and Gain dryer sheets. Sign up or sign in to see current prices.
There is no upcharge for free & clear substitutions when upgrading to name brand products.
All spot treatment requests require consultation. We will do our best to get out stains but please know that some stains (especially set-in or cooked-in stains) may not wash out.
All other special requests and wash instructions are subject to consultation and assessment. Please contact us if you have any questions.